Great to see you!  We have so much to catch up on…
It's been a crazy month & a half:  Hubby's birthday, hubby finished his huge summer "assignment", we ran down for a quick trip to San Diego to visit family, came back just in time for hubby to have one "recovery" day before his single "teacher work day" this year (joy of budget cuts…), had Br's 4th birthday party, Br had his first day back at preschool & our first opportunity to take part in a Montessori birthday walk.
Then I discovered my little blog had been hacked…Grrrrr. (we're okay now).
Whew!!!
More on all that later….
For now, I have an assignment.  A lovely blogger, Deb Chitwood of LivingMontessoriNow.com, & John Bowman, of the wonderful book Montessori At Home, have asked us to share our ideas on doing Montessori stuff at home for their upcoming ebook Mom Bloggers Talk Montessori: Favorite Ideas and Activities.
We're definitely still in the "figuring it out" phase (hmm, wonder if I'll ever make it out of that phase?), but in the last few months we've done a few things around the house to "Montessori up" the place.
What do I mean?  As well as I can interpret it, Montessori is about fostering your child's independence by providing opportunities (with guidance, as needed), with an underlying belief in their success & the learning from almost-success.
So I've tried to be conscious about providing more opportunities where the boys can do things for themselves.  Sometimes this means slowing down and letting them do a step in a "grown- up" project.  Some of this has been setting up a more child-friendly space (though, oddly, this has resulted in more toys being put away).  And some of this has been the more obvious "Montessori" of setting up small activities for them to work on.
We set up an activity shelf:
shelf (prototype from hubby's Big Assignment, free-ish)
trays/bins (most from dollar store or Ikea, etc. with various activities (rotated))
"book bin" (MDF bin, purchased as a set of 3 at Michael's a few years ago, $15?)
Here is the current set up, from Br's "Boat" Birthday party (though I extended the party & the shelf to "Ocean", because "Boat" was a little hard…)
I just recently started trying to do a "theme", and added the book bin to help.  I am a big believer in having books with in a child's reach at all times.  We actually have a low shelf (or shelves) in each bedroom & the living room with kids' books (*cough, cough* Umm, yes, we do have a lot of kids' books.)  The book bin seems like a nice way to "feature" a few books.  We'll see how it pans out.  I also have a magazine holder in the book bin where I have the "job rugs" (a couple pieces of vinyl cut from a yard I bought on clearance at Calico Corner's, $10?).
To see our first set up of the activity shelf, you can click here.
We set up a "work table":
This was another prototype from the hubby's Big Assignment.  It's toddler sized, so great for Bl, but a little small/short for Br.  I have put in an order for a larger one with the hubby.  We'll see how long that takes…
The detail oriented may also note I have a piece of vinyl on the top of the table to protect it, as the table is unfinished.
We hung up mirrors at the boys' heights':
set of 2 mirrors (Dollar Tree, $1)
hammer/nails
I let Br help me when we did this, which was a great opportunity to work on measuring, tool use, etc.  And then he was excited about the mirror!  Figured that would help the buy-in for him to work on more autonomy for "personal hygiene."  We'll see how that pans out…
I set up things to help the boys be more independent at the table:
bin (Ikea, $6.99?)
napkins (okay..they're the infant-sized cloth diapers… washed really well..a lot- but they're super absorbent & were just sitting around!, free-if you take into account they are just bonus-use now)
glass water pitcher (Sam's Club*- part of set with 2 more large pitchers, $14.01)
Tripp Trapp chairs by Stokke (Goore's, they priced matched whatever the best deal was we could find online)
We keep the napkins in the bin, next to Br's seat. He's pretty good about doling them out when the rest of us need one.
The boys each have a Tripp Trapp chair. If you're not familiar, the exciting thing about them is they are adjustable (both seat height & depth, as well as a "foot rest"), from baby to grown up.  The chairs are expensive, but nicely made & we shouldn't need to buy another chair for them until they move out of the house.  But get the "wipe off" chair pads. Those cushions get dirr-ttyyy!  The chairs allow them to sit at the table as a "grown up"- appropriate height, feet supported, sitting directly at the table.  The foot rest part allows Br to get in & out of his chair easily.  Bl's is high enough now that he still needs help to get in (& out) of his, although he can climb on Br's just fine!
I made it easier (& safer) for them to take part more in the kitchen activities:
The Learning Tower (Costco.com*, $199.99 – including the easel attachment! (didn't have on in this picture))
When I just had one mobile kid, we'd used our kitchen step stool for Br.  However, once Bl figured out how to climb, there was the issue of them both trying to be on the stool at the same time. Yeah, head injury waiting to happen.  I figured I might as well spend the money now on something they can be safely on together then spend it later for the Emergency Room deductible!
They can climb in & out of this independently.  You can also adjust the height of the part they stand on.  Right now we are at the highest setting, as that works best for Bl.  Most importantly, it has "cage" aspect to keep my boys from jostling each other into a head full of stitches!
I know there is a lot more we can do to help foster those Montessori ideals in our home (umm… especially the "order" aspect), but these are a few things we've managed to work in.  I hope this might be useful to someone else trying to "Montessori- up".  And I am excited to see what other families are doing!!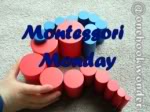 *What's that?  Costco AND Sam's Club?  Yes.  I'm a little ashamed to admit it.  I've been seeing both, for awhile now.  Costco is my true love, but sometimes we go to Sam's Club for the cheap thrill….
Related posts:
You might want to read this too:
This post was singularly original...wander at will!